Saturday-Sunday, August 14-15, 2021
South Haven Downtown Pavilion
All you can eat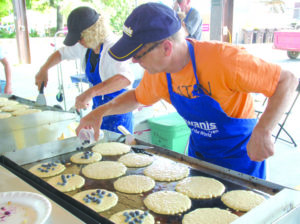 Their names may be different, but their mission to serve the South Haven community remains the same.
The Kiwanis Club of South Haven and the Rotary Club of South Haven will combine efforts to host a blueberry pancake breakfast as part of the National Blueberry Festival on Aug. 14-15.
Normally, each club hosts its own pancake breakfast during the festival; the Rotary Club serves up flapjacks at the festival's Fly-in at the South Haven Regional Airport, while the Kiwanis Club caters to festival-goers downtown at the Huron Street Pavilion.
But the repercussions of the COVID-19 pandemic this year has brought both clubs together to offer one large-scale breakfast at one location: the Huron Street Pavilion.
Continue reading Rotarians, Kiwanians to serve pancakes during blueberry festival